November 4, 2018
A few weeks back, Horn Point Lab hosted it's annual Open House, with this year's theme being "Sustainable Solutions through Science".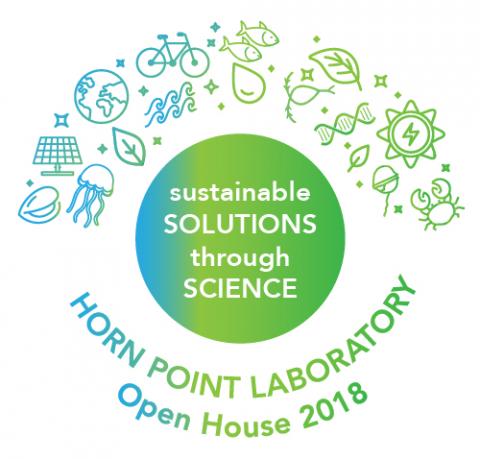 565 interested people travelled to Cambridge, MD for the event and spent the day learning about cutting edge research faculty and graduate students are currently working on. Folks were welcome to board the R/V Rachel Carson, UMCES's 81 foot research vessel.
Children got their hands dirty in a digital sand box, poked a few critters in the Oyster Hatchery's touch tank, and practiced dredging for oysters like a true Maryland waterman.
Every lab at HPL put on some sort of exhibit to showcase their current research. Greg and I decided to portray our remote sensing research by having visitors fly drones over the Chesapeake Bay.
And by that I mean, fly micro drones over large satellite images of the Chesapeake Bay indoors. We taught folks how to manually fly a Parrot Mambo quadcopter drone with a tablet. By pointing out the little camera on the belly of the drone, we explained how we use bigger drones (seen in far back of picture) to take pictures of the actual Chesapeake Bay or tributaries of the Bay. We also explained how drone imagery assists in the identification of certain properties of Bay water such as suspended sediment, algae blooms, and more.
The satellite images we used to fly drones over was taken by the European satellite, Sentinel-2 on August 24, 2018 and was downloaded from the publicly accessible Copernicus Open Access Hub. Six tiles of 10 meter resolution imagery were stitched together to produce a full image of the entire Chesapeake Bay. We applied an algorithm to symbolize suspended sediment in the water caused from the Conowingo Dam opening some of its floodgates, a common occurrence after heavy rains and stormwater runoff. In the picture below, you can see the true color sediment plume in the upper Bay on the right, indicated by yellow/green on the imagery on the left.
This activity demonstrated how we can collect measurable water quality data through aerial imagery. By observing images taken from satellites in space or higher resolution images from drones, we can identify sources of pollution and better explain changes in water quality.